sustainers for stringed musical instruments
Sustainiac OEM BOARD FOR THE SIMPLEST ELECTRICAL HOOKUP of the SUSTAINIACâ "Stealth PRO Ô " electromagnetic sustainer
SCROLL DOWN FOR MORE INFO
We have used this "OEM" circuit board for over 20 years for our guitar manufacturer customers ("OEM's") such as Jackson and Schecter. These boards are electrically identical to our smaller RETROFIT board. Except the OEM board is widened to hold the Sustainiac toggle switch controls. Instead of being 1.1 inches wide like our retrofit board, they are 1.75 inches wide. The photo below shows the retrofit board next to the OEM board. The OEM board costs the same as the retrofit board.
THE ADVANTAGE: This makes for a much easier hookup. And in the process it eliminates several wire position situations that often cause retrofit installations to squeal loudly (oscillate).
THE DISADVANTAGE: The OEM board is too big to fit most guitar control cavities. You will almost always have to route to fit the OEM board inside your control cavity. So, you trade off routing for electrical simplicity. You can see that there are only about half as many wires with the OEM board. The Jackson DK-2S guitars all have the OEM board. Jackson made the DK-2S from 2000 to 2012. Schecter uses it in all of their Sustainiac-equipped models that have a flat top (Syn Custom, SVSS etc.). They don't fit well into guitars with a contoured top. For those, stick with the Retrofit board or Retrofit plus an AUX board.
TOP: RETROFIT BOARD; BOTTOM: OEM BOARD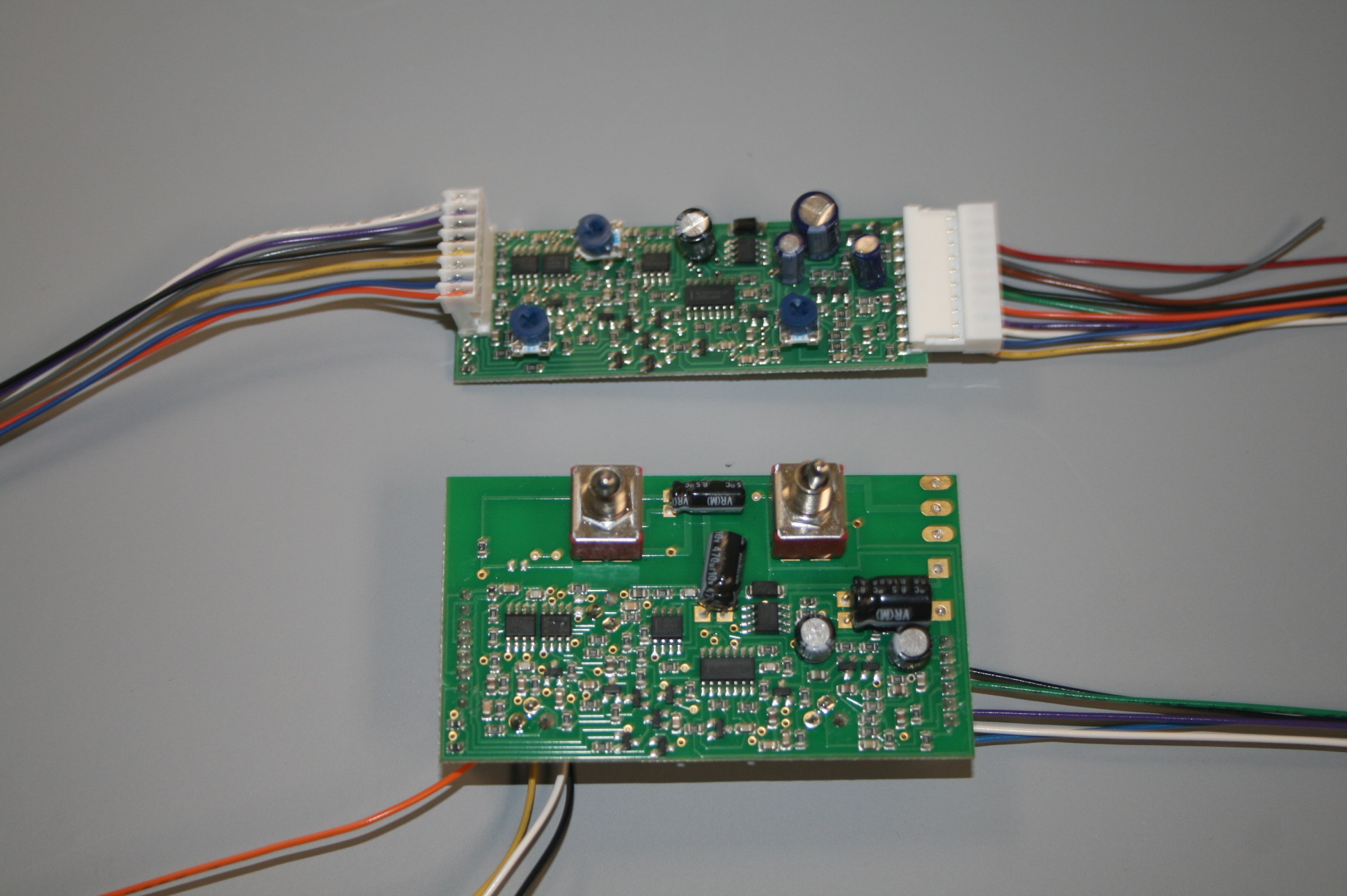 Diagram showing our OEM board dimensions.
We never included the OEM board in our website before. The reason was that we wanted to have a retrofit sustainer that you didn't have to route to install for many guitars. Why are we offering this now? The reason is simple. As the popularity of our Sustainiac product increases each year, we are getting many requests for help. The reason is that the normal retrofit installation is too complicated for an increasing number of people. The OEM board trades off routing for a much simpler electrical hookup. The electrical hookup only takes an hour or so for people with a fair amount of skill.
LINKS TO THE MAIN PAGES ON THE SITE
These same links are provided at the bottom of each page.
HOME PAGE
SUSTAINIACâ STEALTH PRO Electromagnetic sustain system
SEMI-INSTALLATION PAGE THESE ARE SUSPENDED UNTIL FURTHER NOTICE. We do 90% of the work. You receive a kit that is 90% installed, tested, and ready to "drop in" to your guitar
SUSTAINIAC CONTROLS Describes the different control options
Organize your order for the STEALTH PRO Helps you to organize the things you need to know before you order

EMAIL ORDER FORM Copy and paste this page into an email addressed to us.

ABOUT FEEDBACK SUSTAIN what it is, why it is good
FAQ: Frequently Asked Questions, WHO USES SUSTAINIAC, etc.
SUSTAINIACâ SOUND SAMPLES
PERFORMING/PLAYING with the SUSTAINIACâ
JACKSON DK-2S, production guitar with Stealth PRO installed
GA-1-2, Our original 1988 Sustainiacs, in Hamer and ASI guitars, now OBSOLETE
SUSTAINIACâ STEALTH PLUS ELECTROMAGNETIC SUSTAINER INSTALLATION INFO Obsolete model. This page contains printable installation drawings, installation manual, etc. for people who have this model, and who might want to transfer it to another guitar, have bought it used, etc.
Sustainiacâ products are MADE IN THE USA
email: info@sustainiac.com
Sustainiac is a registered trademark of Maniac Music, Inc.
5348 N. Tacoma Ave, Indianapolis Indiana, USA, 46220; PHONE: 317-340-1161